CAN YOUR DOG DO THIS? – Hilarious positions!
WE ARE OFTEN SENT IN FABULOUSLY FUNNY PHOTO'S OF YOUR DOGGY'S SLEEPING IN THE BEST EVER POSITIONS!
QUESTION TODAY! – HAS YOUR DOGGY EVER SLEPT LIKE THIS???
SEND US YOUR DOGGY SLEEPING IN THEIR UNIQUE POSITION PHOTO TO ADD TO OUR POST!
POSITION ONE IS GREAT FOR THE DOGGY WHO DOESN'T PARTICULAR CARE WHAT THEY LOOK LIKE WHILST SLEEPING – IF YOU STILL WANT TO RETAIN YOUR BEAUTIFUL APPEARANCE WHILST DOGGY DREAMING THIS IS NOT THE POSITION FOR YOU!
POSITION TWO IS GREAT FOR ANY DOGGY WHO DOES NOT WANT TO GET IN THE WAY! – ESPECIALLY WHEN YOU HAVE HUMAN CUBS RUNNING AROUND THE HOME!
POSITION THREE IS FOR THE MASTER OF SPIRITUAL SLEEPING! FOR DOGGY'S SEEKING ENLIGHTENMENT THROUGH THE ART OF DREAMING!
POSITION FOUR IS FOR THE DOGGY'S OF THE WORLD WHO ARE NOT OFFENDED BY UNUSUAL AND UNPREDICTABLE SMELLS! – OR FOR THOSE WHO LOVE A LITTLE ODOUR TO AWAKEN TO!
POSITION FIVE IS FOR THE PUPPY WHO KNOWS THAT THIS IS THE WAY TO BE UP FIRST FOR BREAKFAST! COMPETING WITH ONE'S SIBLINGS AT THIS AGE IS SOOOOOOOO TIRING!
POSITION SIX ONLY ADVISED FOR THOSE WHO ARE VERY FLEXIBLE! OR FOR THOSE WHO HAVE SIGNED UP FOR SOME DARING FLIGHT ADVENTURES!
POSITION SEVEN IS FOR DOGGY'S WHO ARE HAPPY NAPPING IN THEIR LITTLE SIBLINGS BASKET AND THINKS ITS A WAY BETTER FIT ACTUALLY!
POSITION EIGHT IS JUST SO GREAT FOR THOSE DOGGY'S WANTING TO HAVE SOME PRIVACY WHILE SLEEPING! HOPING THE GIGGLES HEARD AROUND YOU DO NOT DISTURB YOUR PERFECT POSITION!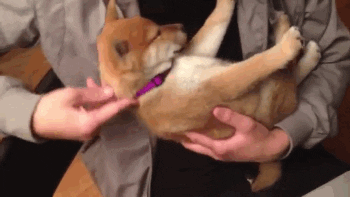 POSITION NINE IS FOR THE YOUNGSTERS, NOT ADVISED FOR THE OVER TWO'S!
POSITION TEN IS FOR THE DOGGY WHO DOESN'T WANT TO MISS OUT ON ANYTHING, ANYTHING AT ALL, WHO WANTS TO BE READY TO GO ON A BREATH'S NOTICE!
POSITION ELEVEN IS FOR THE DOGGY WHO'S OWNER IS TOTALLY SMITTEN WITH THEM! DO NOT TRY THIS WITHOUT PERMISSION FROM YOUR LOVELY HUMAN!
POSITION TWELVE IS FOR THE VERY SPOILT DOGGY WHO KNOWS THEIR OWN VALUE – ONLY A REAL LEATHER AND BANG ON TREND CHAIR IS GOOD ENOUGH TO BE SEEN SNOOZING ON!
POSITION THIRTEEN IS FOR THE MORE DARING OF THE DOGGY'S! SLEEPING IN THIS POSITION IS GREAT BUT BE AWARE YOU COULD BE MOVED AT ANY TIME!
POSITION FOURTEEN IS FOUR THE SLIM DOGGY WHO KNOWS THEIR ARMS AND LEGS ARE REALLY NOT GOING TO FIT IN ANYWHERE! TAKING THE FAVOURITE CHAIR OF THE HOUSE IS RECOMMENDED!
POSITION FIFTEEN IS MORE FOR THE MANIPULATIVE DOGGY! LOOKING SO CUTE FOR YOUR HUMAN, LOOKING LIKE YOU ARE KEEPING OUT THE WAY WHILST SLEEPING BUT ALSO KNOWING YOU ARE RULING THE SOFA!
POSITION SIXTEEN IS FOR THE DOGGY WHO LIKES TO MOVE THE WORLD AROUND THEM RATHER THAN FIT IN WITH WHAT THE WORLD HAS TO OFFER! – ONCE AGAIN, YOU WILL NEED THE O.K. FROM YOUR HUMAN WITH THIS ONE!
POSITION SEVENTEEN IS FOR THE DOGGY WHO IS SUPER BUSY AND HAS A HOME FULL OF HUMAN CUBS, ONE WHO CAN LITERALLY SLEEP ANYWHERE OUT OF SHEER NECESSITY!
POSITION EIGHTEEN IS FOR THE DOGGY WHO LOVES TO BE SEEN! AWAKE OR ASLEEP! EVEN IF IT MEANS A TOTALLY UNDIGNIFYING POSITION!
POSITION NINETEEN IS FOR THE DOGGY WHO LOVES TO DO A LITTLE BIT OF RUNNING IN THEIR SLEEP, YOU WILL NEED A LITTLE LEG ROOM FOR THIS ONE AND THE EXAMPLE ABOVE IS PERFECT!
LET US SEE YOUR WONDERFUL DOGGY PHOTO'S USING THE FORM AT THE TOP OF PAGE!
IF YOU LOVE OUR POSTS, PLEASE SUPPORT US BY SHARING TO YOUR OWN FACEBOOK PAGE OR OTHER SOCIAL MEDIA USING THE ICONS BELOW!
YOU CAN SUBSCRIBE FOR FREE TO RECEIVE ALL OF OUR WONDERFUL DOGGY STORIES, NEWS AND PHOTOS AS SOON AS THEY ARE PUBLISHED! YOU WILL ALSO AUTOMATICALLY BE ENTERED INTO ALL OF OUR FUTURE PRIZE COMPETITIONS! – DON'T FORGET TO CHECK YOUR EMAIL TO CONFIRM YOUR SUBSCRIPTION!
LOVE AND WOOFS!
ALISON AND JET (admin Chihuahua for HAPPY DOGGY NEWS)